1. DeskTop Material & Design
Once you place your desk frame in the desired location, it will give you a good idea of how large and nice you want your tabletop to be. Of course, you would also want it to blend well in your space! Look around where you would love to fit in a standing desk, take note of the colors, materials, and other pieces of furniture you see, then you may have better ideas for the accent color and running theme of the place. You may ask yourself if you wish to color coordinate the desk with other furniture? Noting the aesthetics of your space and coordinating with your desktop will make your new standing desk and room setup look sharp and well planned.
If you own a monitor desk mount, or wish to purchase one, then you'll want the tabletop thickness to be compatible with the desk mount specifications. 
2. Storage
Apart from a wide range of mobility and adjustability to conform to specific and personalized height requirements, desk storage is one vital feature you may not want to miss for your standing desk. When conventional desks usually offer plenty of storage, such as three drawers on one side with a more substantial utility drawer in the center and below the work surface. More often than not, locking at least one drawer is a featured option for conventional desks. But for average standing desks on the market, the first thing you may have discovered when starting your search for storage options may turn out to be the observation that there were much fewer options available.
Have you ever walked out of your house feeling as though you have forgotten something? And this maddening feeling can stay with you for the entire day.
That is the feeling some of the standing desk users discovered when they switched to standing desks. In some cases, it took a few moments before the realization of why they felt that way. Quoted from one customer: "I went to open my pencil drawer to grab a pen, and guess what? No drawer!"
Thus, you really need to be aware of certain things before any purchase is made. Storage space is such a "thing", and some of the desk accessories on the market may do some help, but with apparent cons also. If to name some, that could be
-Material and Size: Not available to choose from so to best match your desk.
-Originality: Those small items are designed non-originally from your own desk.
-Warranty Issue: Desk's warranty may be breached.
Conclusion: Better check for any standing desks with extra storage so to better incorporate it into your work and life in years to come.
Entry-Level Budget Option: Standing Desk with Drawer
Link: https://www.fezibo.com/products/fezibo-aeris-electric-standing-desk-with-drawer?variant1=39683870457925&variant2=39683871473733&accessories=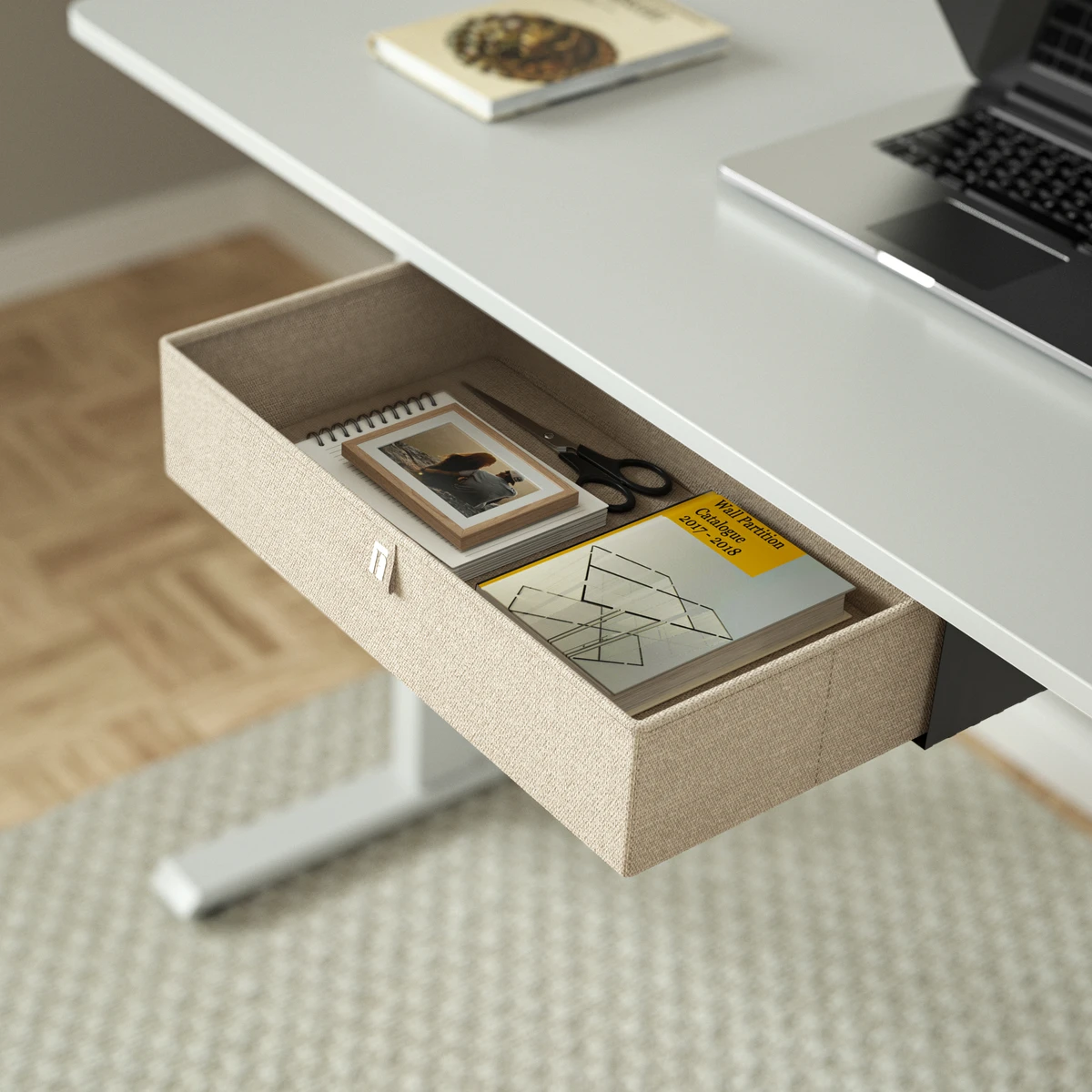 Featuring the welcoming and budget-friendly price, this model is just perfect for new standing desk users. It also comes with all the essentialities you can expect from a standing desk.
Key feature:
An under desktop cloth drawer that is soft in touch, assembly-free, light-weighted for organizing miscellaneous items and saving for the tidy desktop.
Maximized Storage: Model Brasa
Link: https://www.fezibo.com/products/fezibo-brasa-electric-height-adjustable-standing-desk?variant1=39584875970629&variant2=39584880721989&accessories=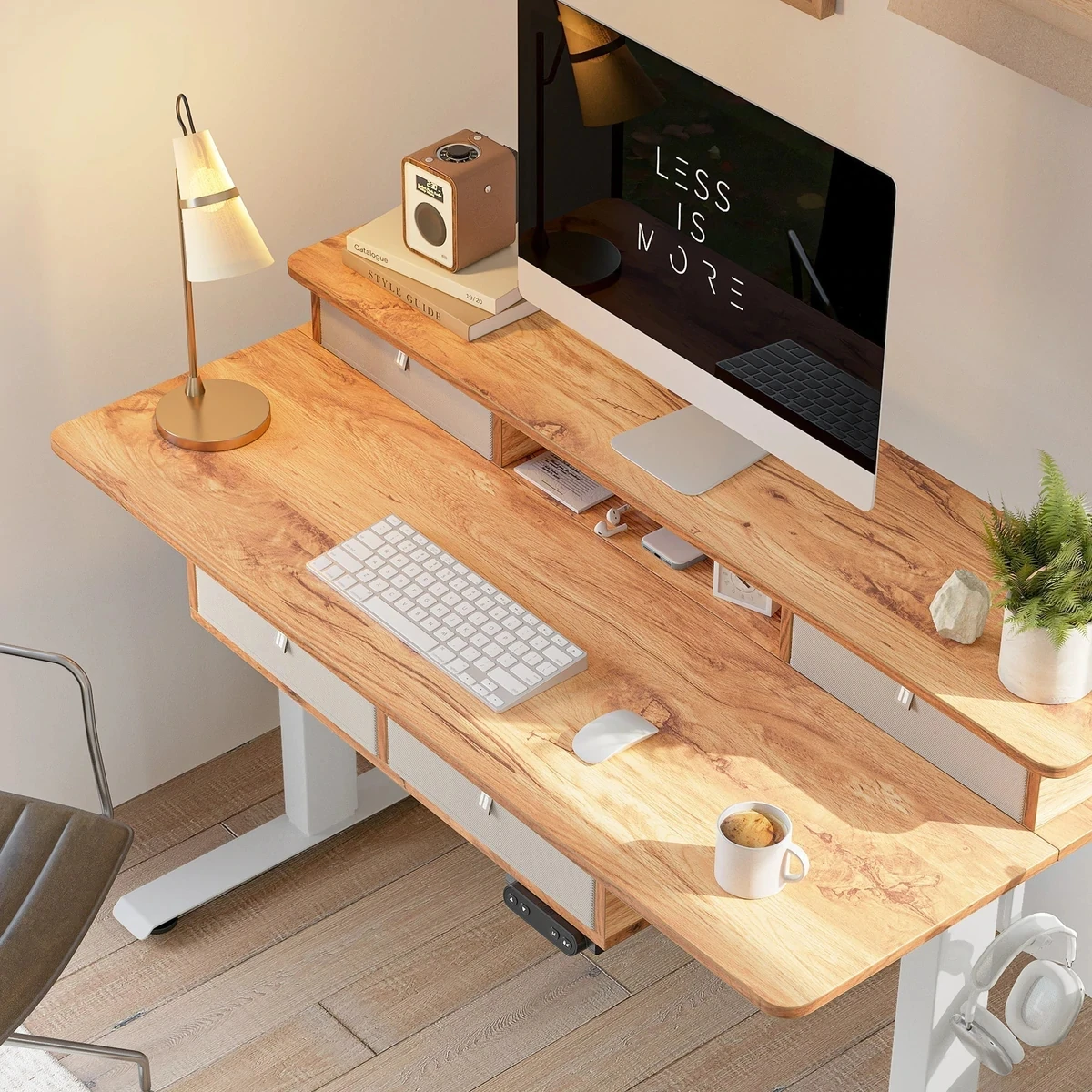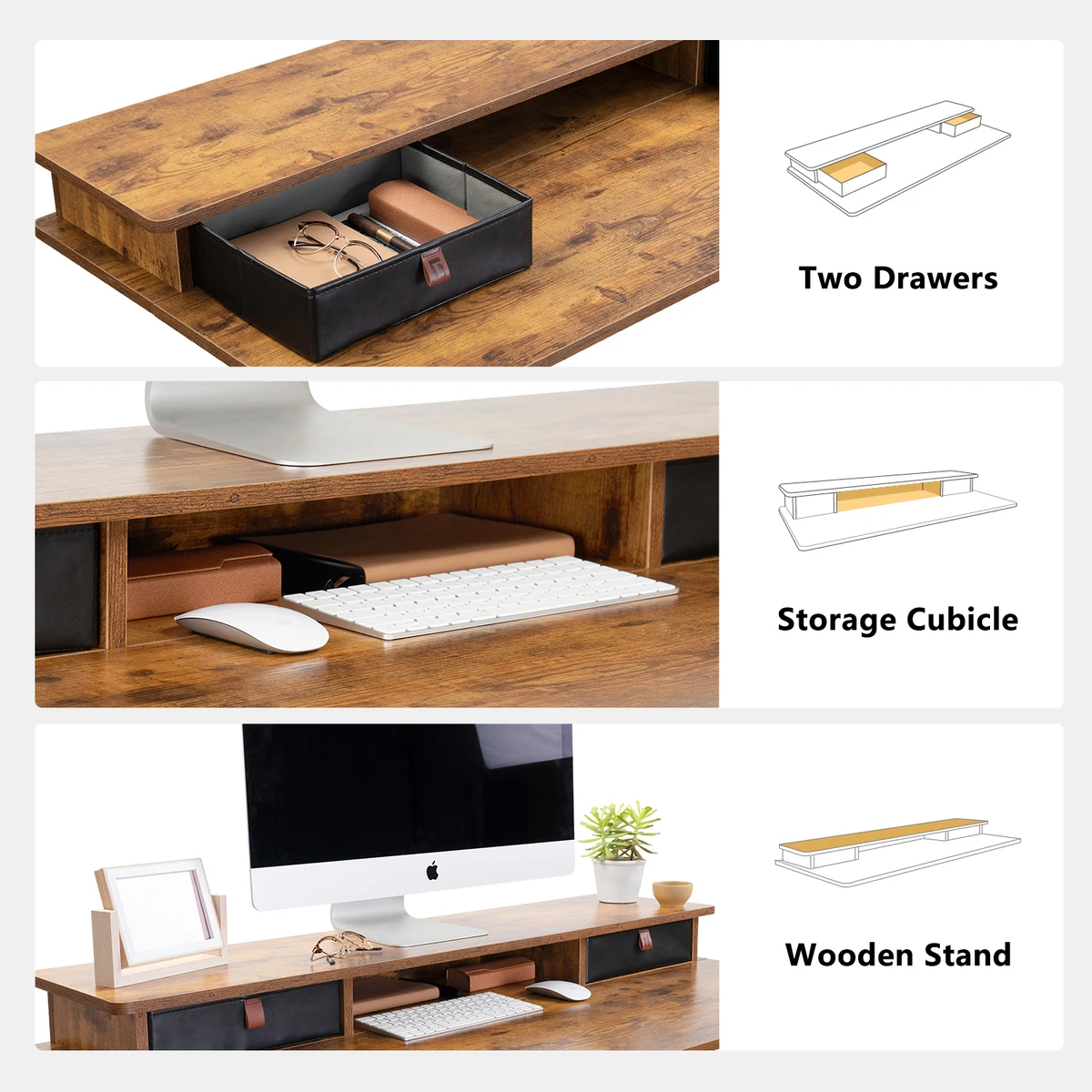 Now you are seeing some of the most creative standing desk storage options on the market here. 
Desktop storage options:
-Lower double drawer
-Upper double drawer
-Upper and lower quadruple drawer (both cloth and wooden drawers available)
And, versatility in functionality should also come with aesthetics. With this model, various color combinations for desk frame, top, and even drawers are offered to choose from, no matter with natural and solid wooden drawers, soft-touch cloth drawers, chic round desk legs in either black, white, or grey, or anything else you choose to customize your standing desk to make it standing out.
You may even tag us on social media channels to have your setup and desk featured to many more.
Bigger Than Big: Triple Motor L-Shaped Standing Desk
Link: https://www.fezibo.com/products/triple-motor-l-shaped-corner-ergonomic-standing-desk-fezibo?variant=40000451805253&accessories=
Like the iPhone 13 Pro Max for other iPhones, like this desk for other standing desks on the market. However, unlike any digital gadgets, this best-selling and jewel-on-the-crown model simply brings on all the merits and potential in one desk so as to bestly and beastly boost productivity and your workflow.
One More Thing
Keyboard & mouse generally occupies a lot of valuable area on your desktop, helps in making a cluttered work surface. What about making your keyboard and mouse disappear and taking back the space from your desktop?
What about saving the precious desktop area and switching for a color-blocking top at the same time?
The answer may be right here: Dual Motor standing desk with Keyboard Tray (Link: https://www.fezibo.com/products/fezibo-standing-desk-with-keyboard-tray?variant=32076315525189&accessories=)
Conclusions:
Picture ahead what your workspace would be like in 1 to 2 years, leave some extra room for it just to be safe.
Play with the Online Desk Customization and see for yourself the design, top, frame, color, and all that make the desk closest to your ideal one. In addition, most picked accessories are available for selection and your dream workspace setup inspiration.
Wishlist comes in handy when some of the beloved desks are sold out due to the previous sales events.
3. Lift & Control System
Lift system for a standing desk is exactly same as what's under the hood for a sports car.
A standing desk's lift system is basically the capability to be assessed and compared that correlates with the weight capacity, stability of the frame, design of the legs, overall structure, number of actuator/motors, noise level and the speed of desk's movement when being operated, etc. All of these factors require an excellent standing desk from a brand that has been making and iterating its products for years dedicatedly and consistently.
Lifting Power
High rating for this capacity implies the actuators are able to handle greater loads with much less the possibility of excessive heat or loss. In terms of safety and durability, greater the lifting power, better the flexibility for your desktop to hold more gadgets and stuffs.
A desktop setup with multiple monitors, a tower PC, large speakers, and typical computer accessories would add up to 100 lbs or so, with the weight of the desktop itself needing to be factored in as well. And, the least pricey standing desk from us takes on the lift capacity of 155 pounds., which is more than half of this weight (Link: https://www.fezibo.com/products/fezibo-aeris-electric-height-adjustable-standing-desk?variant1=39832459345989&variant2=39832438341701), not to mention the Triple Motor L-Shaped one (Link: https://www.fezibo.com/products/triple-motor-l-shaped-corner-ergonomic-standing-desk-fezibo) with the lift capacity of over 330 lbs, bringing a lot more potential, power, and the utmost stability for work and life.
Frame Structures
We have been iterating and improving our desk frames for many generations so as to reduce some of the most common issues from many standing desks on the market, such as the wobbliness at standing heights.
Side-to-Side Stability: Steel reinforcements are tucked under the desktop and eliminate side-to-side wobble. Our stability braces removes the need for a lower crossbar and leave more space for accessories, as well as bring about a clean, streamlined look.
Overall Sturdiness: Fine steel is used to improve the sturdiness of every standing desk frame we make.
Furthermore, sturdy as how we are trying our best to build our standing desks to be, there are also braking casters we offer along with foot pads to offer extra flexibility in using your standing desk. With the very practical addition of file cabinets on wheels, shifting the scenarios for work becomes ever easy and fun.
4 Control Panels to Choose From
Based on sound lifting power and frame structure, a well-designed and tested control system that takes care of your daily usage is more than icing on the cake.
Generally, this is the reason for those who abandoned the idea of purchasing a hand crank desk and went for the electric ones. We also don't recommend standing desks that require you to exercise your arms daily, specifically when you are gradually getting heavier loads of items on the desktop during the time—because tests have shown that compared with electric counterparts, hand crank standing desks are difficult to work with and can make users suffer from balancing issues, also less likely to want to switch height positions, which is the whole point for getting a standing desk.
What type of standing desk control system fits me, and that me in years to come the best?
Whether it is the option with up to 4 memory preset heights for multiple users on the same desk, or with only up and down keys that come at an affordable price that makes you wonder if it's priced for a hand crank desk, the control systems pretty much explain the price gaps between many standing desks models.
From the simple and minimalist control panel for adjusting desk's height to the one offers plenty of functionality and memory heights, we are going to walk through 4 major control panels that are all customization options on our website.
We have sorted out the needs of thousands of customers for standing desk control systems into four most welcomed keypads in different price ranges to suit consumers with different needs. If you are planning on purchasing a lower cost standing desk or a hand crank standing desk, feel no hesitation checking out the one with up and down keys with the price that may be even lower!
Let's cut to the chase now.
Basic Keypad
Functionality: Up and Down adjustment.
Feature: Extreme simplicity and value for money.
Standard Keypad
Memory positions: 3
Standard and classic, a pleasure to use.
Advanced Pad
Memory positions: 4
Extra functions:
-Charging ports
-Child lock (to keep little ones from changing your standing desk's height even when they're tempted by the buttons, and also keeps you from accidentally raising or lowering the standing desk yourself—during conference calls—so the lock comes in handy even if you don't have children)
Pro RGB Keypad
Memory positions: 3
Features:
-Pro RGB LED display
-Programmable sedentary reminder
-Stands out with the latest design language
-A velvety touch to the keys
Something More
There's even the setting to change the standing desk's anti-collision sensitivity via our control system to better care for your use of the standing desk while adjusting the height.
What is it?
Anti-collision functionality is an essential safety feature in which the standing desk stops lowering its height if it touches something or someone—kids playing with or under the standing desk could get seriously hurt otherwise.
4. Accessory Universe
Part of the reason we put on all necessary desk-related accessories on www.fezibo.com when adding a desk to the cart, is we have found customers may sometimes not have the clue what would be the most suitable items to work with the new standing desk. And thus many some turned out to go back and made the second or even third purchase in separate times.
When you are shopping for any of fezibo's standing desks, just click on "Add Accessories" on the product page of any standing desk and you will see accessory items that have been refined from market data and are probably the ones you need the most. Those items are in categories of
-Ergonomic Office Chairs
-File Cabinets
-Monitor Arms (both single or dual monitor arms are available on our website)
Mounting your monitor or monitors with a VESA stand is already a good idea for ergonomics by your keeping your shoulder and arms in the right position, and your eyesight level to the monitor screen to avoid neck strain. Using a desk mount (not a wall mount) on an standing desk keeps those screens at a fixed position, both vertically and horizontally, relative to the top of the standing desk. Also, it helps leave your desktop clean and tidy and less occupied.
-standing desk Mats
-Vibration Plates
-Power Strips
What's more?
Have you ever considered about the under desktop wire management? If so, that is actually available for our desks, as designers from FEZiBO have observed that for most users of standing desks, it is actually a growing issue of cables of a standard desktop PC, a laptop, lamps, chargers, and other dadgets, apart from the cables for the desk itself. A mature and ready under desktop cable management solution is ready from us that's been tested for seasons.
All in all, it cannot bring us more joy if after reading this, you may be able to find a better-than-ever-imgined standing desk.